Are you getting started as a YouTuber? If so, you will need to ensure that your video content is high quality and visually appealing. That said, it makes perfect sense that you involve the best tools trusted by leading youtubers for producing your videos.
This blog lists down some of the most popular video editors that you can use for fine-tuning your YouTube videos – 
5 Best Free Video Editors YouTuber Beginners
1. Veed
This web-based software is the easiest video editor for YouTubers. It enables you to do a plenty of things including: screen recording; green screen editing; add auto subtitles; video resizing; video rotation; create video annotation; add progress bar on video; add and remove audio from the video; and add emojis and stickers on video.
Veed is also equipped with a video cutter, video joiner, video splitter, and frame speed converter. The tool also lets you create GIFs images from your YouTube videos.
There are free and paid versions of the application.
Website: Veed
If you have a Mac desktop or laptop, Final Cut Pro X is the best editor software for YouTube video editing. It is an ideal video editing tool for creators, marketers, and small businesses with limited technical knowledge.
With this application, you can – do 3D Titling, create magnetic timeline, perform multi-camera editing, add transitions, and edit videos in multiple formats. You can edit 360-degree VR videos as well.
Final Cut Pro X comes with a 90-days free trial; during this period, you can learn the tool and produce professional quality videos for your YouTube channel.
Website: Final Cut Pro
3. Filmora
Filmora is labeled as the best alternative to Windows Movie Maker of Windows and iMovie of Mac.
It is quite a popular video editing software for YouTube beginners and semi-professionals. The application offers a drag & drop user interface, where you can drag and drop your video files to edit them.
The tool helps youtubers with color tuning, text editing, adding zoom effects, removing shaky camera effects, creating magnetic timeline, and adjusting video speed.
The cost of video editing software varies for individual and business users.
Website: Filmora
4. Pinnacle Studio
Edit like a pro with Pinnacle Studio, an advanced video editing software!
The software lets you add cinematic grade effects on your videos. Screen recording, video masking, color grading, trimming, cropping, merging, splitting, creating magnetic timeline, and adding motions to pictures – Pinnacle Studio software makes basic to complex editing a real breeze.
However, to get this all, you will need to purchase the software. You can test the application with a 30-day free trial, but there will be limited features available to you.
Website: Pinnacle Studio
5. Capcut –
This is a free and the best YouTube video editor for Android users.
With its mobile-friendly interface, Capcut video editor helps YouTube creators edit vertically-shot videos.
You can add an array of animations, soundtracks, and effects on your video. Some of the cool effects on the app are: 3D zoom, keyframe tracking, and automatic captions.
The app does not support videos that are longer than 15 minutes.
Download Apps: Capcut
Promote Your YouTube Videos with Mezink 
You can promote your videos with Mezink, a link in bio tool and a Linktree alternative, that gives you a link and landing page. You can showcase your YouTube Channel and videos on this landing page, and puts its link in the about section of your social networks.
Now, all you have to do is to persuade your followers to visit this link and check out your content or follow you on other social networks.
Mezink also helps you receive tips and donations from your fans and followers.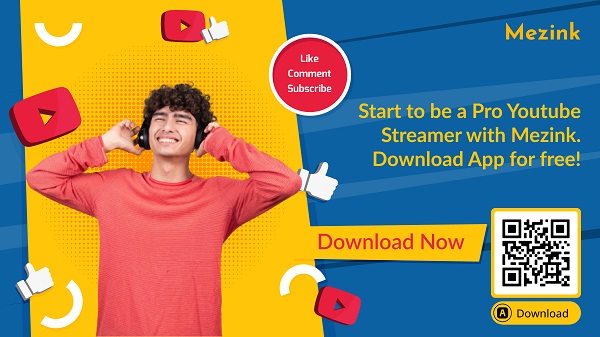 If you don't have Mezink, get it now for free!