Instagram and TikTok are two most popular social networks among users and creators. Both the social networks offer users a heavy dose of entertainment and creators so many ways to earn money.
Earning through Instagram and TikTok
To name a few ways to earn money on Instagram and TikTok, you can sell your products, become an influencer, and work as a social media manager for brands.
You can also earn money from your videos as well. For this, you will need to share videos, generate views, and the platforms will share a certain percentage of the amount they receive from ads shown during your content.
If you are a creator or performer, have a huge fan following, and often do live videos on TikTok and Instagram, you can set up a donation link, using which your audience can send you money (donations) during your live streams.
How To Setting up Donation Link on Instagram
Instagram now allows creators and users to generate funds or receive donations for their cause. If you too want to fundraise for your cause via Instagram Live, here is a stepwise guide for you –
Make sure that you have an Instagram business account, and it is linked with its verified Facebook page.
Also ascertain that you have been enrolled and approved to use Facebook Charitable Giving Tools.
Everything set? You are now ready to fundraise via Instagram Live.
Open the Instagram app on your phone.
Tap on the (+) icon and find the option to go live on Instagram.
Towards the left of the screen, you will see "Fundraiser". Tap on it, you will see a popup with a list of charities. Use the scroll or search feature to select the charity you want to donate for.
And begin your live broadcast.
Now, your followers will see the donation sticker, and will be able to send you donations during your live stream.
How To Setting Up Donation Link on TikTok
You can receive donations for your cause on TikTok as well. Here is a quick guide to set up donation link during TikTok Live.
Open the TikTok app.
Choose the option to go live on TikTok.
Find and add the donation sticker from the list of available stickers.
Choose the organization or the cause you would like to support.
Place the donation sticker on your live video on TikTok.
And continue with your live video.
Your followers will be able to tap on the donation sticker and send you donations for your cause.
Receiving Donation with Mezink
Mezink is an ultimate tool for creators. Basically, it is a Linktree alternative that gives you a link for your social network bio and CTA. In addition to that, it can be used to receive donations from followers directly in your account.
Read More: How To Set Up Tip / Buy Me a Coffee Page in Mezink App
You can put your Mezink link in your bio, and ask your followers during your Instagram Live or TikTok Live to visit this link to send you donations. Before that, you will need to set up your Mezink profile to receive donations from users.
The best part of using Mezink for donations is, there is no commission policy. Meaning, the amount you receive is transferred to your account without surcharging a single penny as transaction fee or commission.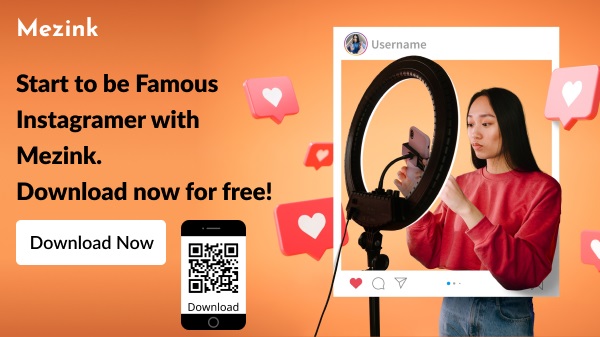 If you don't use the Mezink app, download it now for free!